VIVACE
The product is RF energy base device composed of the main body with LCD control, handpiece, foot switch and power code. The device generates and delivers RF energy (1MHz/2MHz) into the dermis through the microneedle tip. Delivered RF energy converts into heat energy in the dermis as for intended use.
Want to hear more about this product?
Description
It's the newest generation of radio frequency microneedling, and The Vivace is FDA-cleared for your safety. This minimally-invasive treatment stimulates the natural production of collagen and is shown to be effective in alleviating facial wrinkles, fine lines, and tightening and toning the face, neck, hands, and body.
We start with the most revolutionary, best-in-class Vivace Microneedling RF device, designed for an incomparable, comfortable patient experience. Only The Vivace boasts a precision robotic motor that brings discomfort to a virtual zero compared to any other device you will find in your physician's office. We recommend a personally compounded numbing cream, the best available today, and our carefully developed recovery system ensures no one knows you just had a treatment today. The results are immediate and also improve over time, giving you the best of both worlds.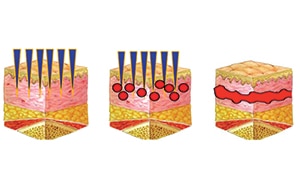 CIT (COLLAGEN INDUCTION THERAPY) BY MICRONEEDLING MULTILEVEL RF
When applied to the skin, under topical anesthesia, sterile microneedles are used to create many microscopic channels deep into the dermis of the skin that can stay open up to four to six hours. This stimulates the body to produce new collagen. The precise delivery of RF energy to 31 varying depths of penetration gives The Vivace exceptional outcomes.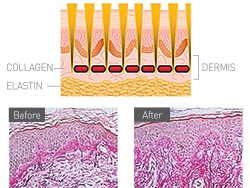 WHM (WOUND HEALING MECHANISMS) BY MULTILEVEL RF ENERGY
Vivace microneedles are insulated except the end point (0.4mm). Microneedle electrodes deliver bi-polar energy deep into dermis without damaging the epidermis. Minimally invasive RF thermal energy creates fractional electrocoagulation in the dermis which facilitates a natural wound healing process. WHM promotes the remodeling of collagen, elastin and wound contraction, which enhances skin laxity.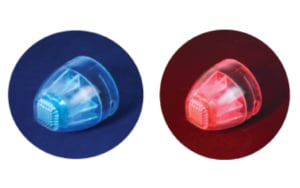 BLUE & RED LIGHT EMITTING DIODE
Pulses of light activate skin cells to increase collagen production, moisture levels in skin, and improve skin tone and texture.